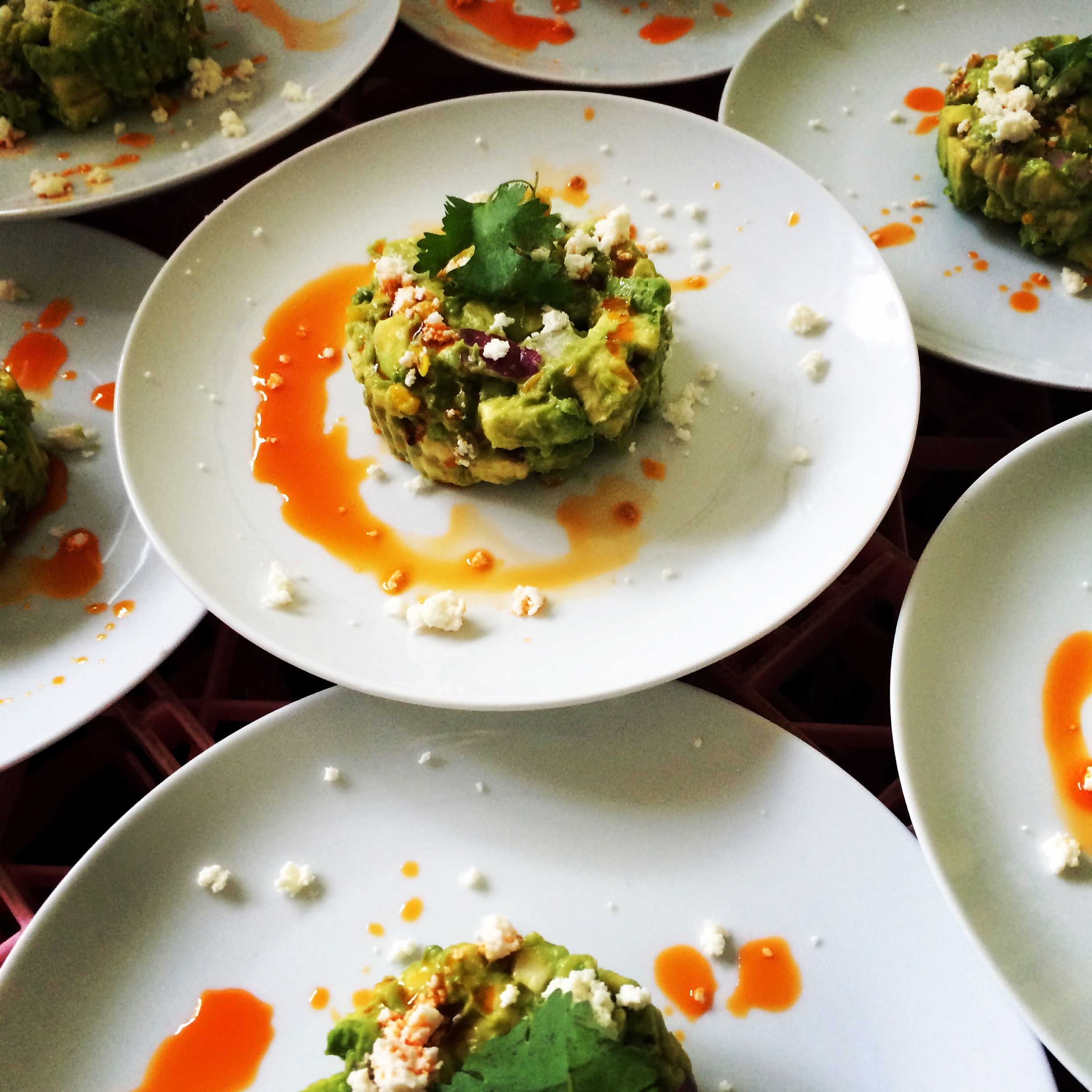 Vegetarian Awareness Month is coming to a close but that doesn't mean leave our meat-free friends by the wayside. At TomCookery, we make sure to be as inclusive as possible (when our clients let us) and we have a number of great comfort classics for guests who want to hold the meat. Check out our 8 favorites that are so yum, meat will be an afterthought.
8. Cornbread Stuffed Mushrooms
This appetizer is perfect for fall and winter because its like a little bite of Thanksgiving/Christmas in your mouth. The cornbread is actually a traditional sagey, yummy stuffing which we pile in to a cremini mushroom and pop in the oven so it has a great crust.
7. Corn & Avocado Salad with Queso Fresco & Chili Oil (Pictured Above)
We created this dish as a summer salad course but don't be surprised if it pops up again when you least suspect it. The avocado is tossed with roasted corn, minced white onions and lime, then topped with a sprinkling of queso fresco and cilantro. Finally, we hit it with some schezuan chili oil for an unexpected kick.
6. Macaroni Pie Bites
These are a definite crowd pleaser and make their way on to MOST cocktail party menus without fail. Its basically all of the goodness of our full sized mac and cheese reduced into one little caramelized bite. They hold their own next to any meat hors d'oeuvres.
5. Fried Eggplant Lasagna with Creamy Béchamel
A cross between eggplant parmesan and lasagna, this dish was the brainchild of our chef, Tom Burke, who would literally put béchamel on everything if she could. The thinly sliced fried eggplant is layered with ricotta and marinara and the whole thing is topped with a creamy, nutmegy béchamel. Don't sleep on this decadent take on an Italian-american comfort dish.
4. Fried Okra with Buttermilk Dipping Sauce
For the country folk among us (Chef Tom has roots in Mobile, Alabama and New Orleans, Louisiana), okra is a staple in many dishes. For those of you who shy away from this slippery little vegetable, fried okra may be a solution. Okra fried in our cornmeal batter is the perfect little popper. Healthier than french fries, yet similarly addictive, this appetizer is a go-to at any southern themed party.
3. Corn Pudding (Pictured Below)
The question we get most about corn pudding is, "Is this a dessert or a side?" Well folks, its a savory side. Its sautéed corn cut straight from the cob. We mix it up with cheese and other fun stuff to create an amazing pudding. It's hard to describe but its easy to fall in love with.
2. Black Eyed Peas Salad (Pictured Below)
This dish is so flexible. We make black eyed peas salad shooters for appetizers, we serve it as a side for barbecues and its a staple on NYE menus since black eyed peas are supposed to give us luck in the new year. There is very little wrong with this salad, as it will satisfy vegetarians, vegans and meat eaters alike.
1. Sautéed Wild Mushrooms Over Cheesy Grits
What do we serve when we are asked to create a vegetarian version of shrimp and grits for our guests? Sautéed wild mushrooms over cheesy grits of course.  These are no ordinary mushrooms. We sauté them with garlic and herbs and hit them with just a little bit of sherry wine. Then we shave fresh parmesan and fresh herbs over the whole shebang for a entrée that even the most staunch carnivore envies.
Those are our fave comfort food vegetarian picks. Make sure to check back in with TomCookery on Facebook or Instagram for realtime updates on what we're cooking. And if you live in NYC, keep us in mind for your next event!