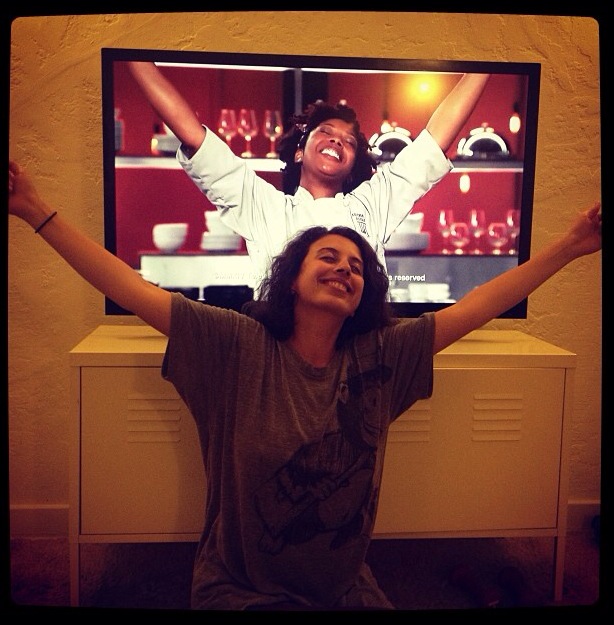 This past Sunday, I was a contestant and WINNER on Food Network's Cutthroat Kitchen.  This was a really proud moment for me both as "Chef Tom" and the owner of my own business: TomCookery – New Comfort Cuisine & Catering.
I felt like I was on the Hunger Games, minus the murder.  But I channelled Jennifer Lawrence and pressed on through three rounds of the most unbelievable sabotages.  Delights such as making cake in a cement mixer and creating a kitchen from a shopping cart were on the menu Sunday night.
My description will be a pale comparison to watching the video of the Cutthroat Kitchen "Clean Up" below:
Takeaways from the Show:  
-My mind goes blank under pressure (hence forgetting everything but the lettuce for my salad)
-I have an uncontrollable potty mouth "Thanks for these dirty a$$ knives"
-Never has a caterer anywhere turned down a sterno as a heat source.
-Newly formed PTSD around construction sites around the city.
-Trowels are incredibly useful for icing things like cakes.
-I have supportive friends (see above)
-And most importantly, anytime is a good time for pancakes.
Static Truths:
Alton Brown & Chef Antonia Lofaso are the best host and judging team on the show.  I'm not just saying that because I won.  First of all, female chefs rock so Antonia is clearly my fave.  Further, Alton changed my whole cookie-making world in the Good Eats "Cookies" episode and I've been a devotee ever since.  I am truly honored that they had nice things to say about me and this is my proudest memory as a chef to date.
Stay tuned for a blog post on the watch party we threw in TomCookery's hometown of Long Island City, Queens.
For more information or to hire us to bring updated yummy southern and caribbean comfort food to your next party contact the TomCookery team at events@tom-cookery.com