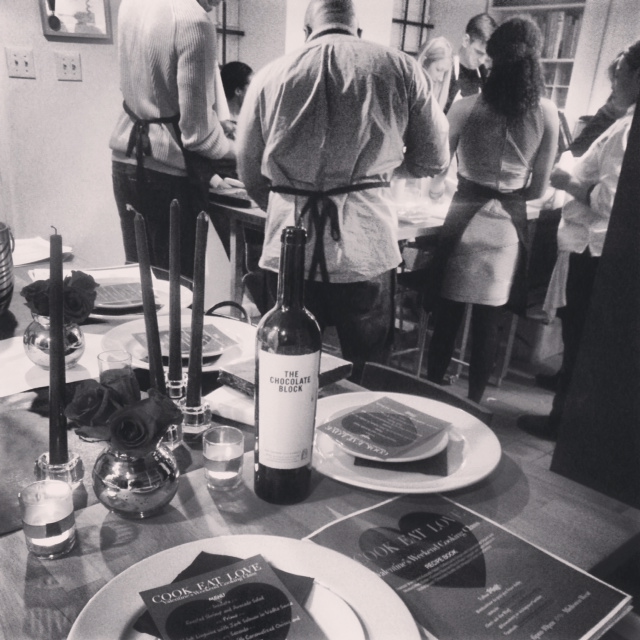 When Valentine's Day falls on a long weekend, a Sunday night cooking class for lovers and friends is the obvious next step.  Right?
So that's exactly what we did.  This VDay, TomCookery hosted "Cook Eat Love-Valentine's Weekend Cooking Class."  I can't speak for everyone else, but my Assistant Instructor Sara and I had a blast with this group of foodies.  I was definitely a proud mama watching this dream team drink, dance and bang out a four course meal in about an hour and a half.
Menu
Roasted Shrimp, Corn and Avocado Salad with a Lemon Shallot Vinaigrette
Squid Ink Linguine with Jerk Salmon in Vodka Sauce
Grilled Lamb Chops with Caramelized Onions and Herb Butter
Coconut Basmati Rice & Peas
Chocolate Soufflé with Whipped Cream and Berries
Highlights
-The fire at Rob's lamb lollipop grilling station and my uncharacteristic lack of concern.  "It will take care of itself."- said nobody about any fire, ever.  Except me.
-Mustard-herb butter.  And the group vote that it be elevated to a main course.
-My resident Jamaicans making the jerk salmon.  No pressure, TomCookery.
-That salad that stole the show.  Tails-on shrimp…a must!
-So. Much. Souffle.  Hats off to the couple who kept track of all 24, yes, 24 egg whites.  And the stand mixer that whipped them into shape.
-Kenny asking for, and being awarded an internship at TomCookery LLC.
-The pasta and vodka sauce group not so secretly declaring themselves to have the best dish.  Pass the parmesan please!
-My old-lady recipe interpretations (pinch of this, dash of that) for rice and peas and the ever patient student.
Thanks to Marisa, event planner extrodinaire at House of Flores for her clutch tablescaping and flower arranging.
If you are interested in a cooking class or cooking party, contact us at events@tom-cookery.com.
Until next time,
Tom